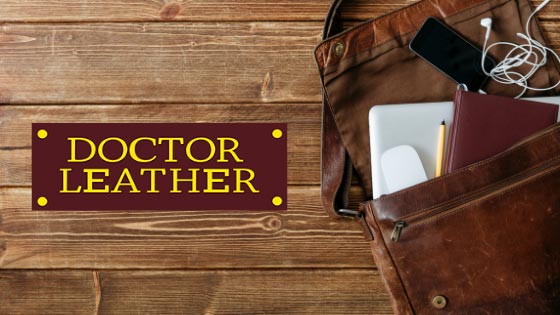 Leather is an extremely durable material made by tanning the hide or skin of animals. The skin of the animal goes through a preservation process, i.e., a natural treatment called tanning to convert the otherwise perishable skin to a long-lasting material called leather. The skin of the larger animals like horse or cow is termed as hide whereas skin of smaller creatures like sheep or goat is termed as skin. Leather mostly comes from cows as a by-product of the meat market. Here are some of the animal leathers:
Cow Hide. Leathers are mostly made from cow hide that's used to make a wide assortment of leather goods. The cow leather may be soft, thick, and abrasion resistant which makes it a fantastic choice of leather for heavy duty wear.
Buffalo Hide. Buffalo hide is a lot like cow hide but it may be stiffer and has a more pronounced leather pattern like deeper grooves and cuts. Leather made from buffalo hide can also be used in creating vests, coats, pants, bags and can also be used for making rugged things such as rugs and shoes. A jacket made from buffalo leather is extremely durable and will last a lifetime.
Lamb Skin. Sheep and lambskin are quite soft, supple, and lightweight. Ideally, it is not advised for making hard-wearing items like motorcycle coats but it is generally utilized to create clothes, trench coats together with pants and gloves. This is the leather of choice for the majority of the large fashion houses for their coats and purses.
Deer Skin. This might probably be the toughest leather accessible and has high tensile strength, abrasion resistant, and offers high durability. The skin of the deer is very soft and comfy and has a spongy feel. The lightweight, water-friendly leather is quite costly and is usually used for creating handbags, wallets, and upholstery. It was the skin fabric of choice for Native Indians (Americans) for their clothing.
Goat Skin. Goat skin leather is strong and durable, having a simple nice grain and is very economical. The goat skin leather is much more in demand than cow leather and can be supple, comfortable, light-weight, water resistant, and it is relatively affordable. The goatskin leather is used for creating clothes, publication covers, gloves, shoes, and bags.
Leathers are usually available in the following grades:
Full Grain. Considered as the finest leather where only the hair is removed from the epidermis and the hides have yet to be snuffed, sanded, or buffed to remove marks or imperfections and contains the whole thickness of the skin. The leather has good durability and strength as the grain stays on the skin. The full-grain leather is offered in two types of finishes known as aniline and semi-aniline and it's generally used for the making of best quality furniture, footwear, and luggage.
Top Grain. This is the second highest tier of leather after full grain. It is split from the top layer of blemished hide and then it is sanded and refinished to eliminate scars and scrapes. It is still strong and durable. It's mostly used for garment production. It has greater stain resistance than full grain leather if it's maintained properly.
Corrected Grain. These are leathers with artificial grain applied to its surface and this particular leather does not meet the standards that are needed for producing vegetable-tanned or aniline leather. The imperfections are adjusted or sanded off and a synthetic grain is crammed to the surface together with dyes.
Split Leather. This leather grain is based from middle and lower layers of the epidermis and is created in the fibrous part of the mask which is left after dividing top-grain of the raw hide. After the mask was bronzed, a thick treatment is provided on the leather. This leather tier is only used for producing suede or corrected grain leathers and can be greatly preferred by furniture manufacturers for its sturdiness. Some associate this type of leather with "genuine leather" although the word can be taken for its literal meaning as "real" where the maker is only trying to indicate its real leather rather than synthetic.
Leather Thickness
Leather is a soft material and hence measuring its thickness is quite difficult. The thickness of the leather is determined with a predefined area and predetermined touch pressure. It's hard to quantify uniform impressions over the whole skin surface since leather isn't the same in character and hence thickness dimension of the leather is regulated by national and global standards. Thus, 8 ounces thickness of leather signifies 1/8th of an inch thickness. Leather having a thickness over 1.4 mm is deemed heavy grade that is used for straps or bags.
Whenever you go to your preferred bag repair specialist whenever you have an issue with your bag, do you ever think of the wide varieties of leather there is in the market? Different leather goods are made depending upon the thickness of the leather. Find below the specified leather depth that is ideal for making different products.
5 to 1.2 mm leather is used for making leather jackets, gloves, and pants.
0 to 2.5 mm leather is used for making wallets, leather purses, book covers
0 to 2.5 mm leather is utilized for making heavy duty leather bags, leather straps
8 to 3.5 mm leather is utilized for making vegetable tanned leather
Vegetable tanned leather is leather that is tanned with a natural process using natural ingredients like the bark of chestnut trees and from other tanneries which have a rich heritage of tanning hides. Vegetable tanning is an age-old procedure and is based on the extended and complex process of soaking various hides in vegetable tannin. Since plant extracts are used for the tanning process, hence the color of the finished leather has rich tones of organic browns. Vegetable tanned leather is stronger and can withstand the daily wear and tear and with proper care can last over a lifetime. This sort of leather ages well creating a natural patina as you wear it.
Presently, roughly 89% of hide and skin found in the market are chrome tanned leather that is treated using chromium salts and tanning liquors, however, it must be closely monitored to lessen environmental impact. It is a relatively new approach that has been practiced to expedite the tanning process. Tanning could be processed in as little as two weeks' time and cost considerably less in comparison to vegetable tanning. Offered in a vast array of colors which range from black to bright pink, thereby giving good choices into the fashion industry where trends change quickly. The chrome tanned leather might fade slightly but usually shows slight color change over time. Therefore it's excellent for making products that might be subjected to heat or humidity.